Check Out The Availability
We offer you a private Villa and Swimming pool in a quiet local community area with beautiful lagoon views and the professional services of Esha, our manager of the house who will look after you and make sure you will enjoy an unforgettable stay.
Pivate Swimming Pool
Front Side balcony
Drive in to the Villa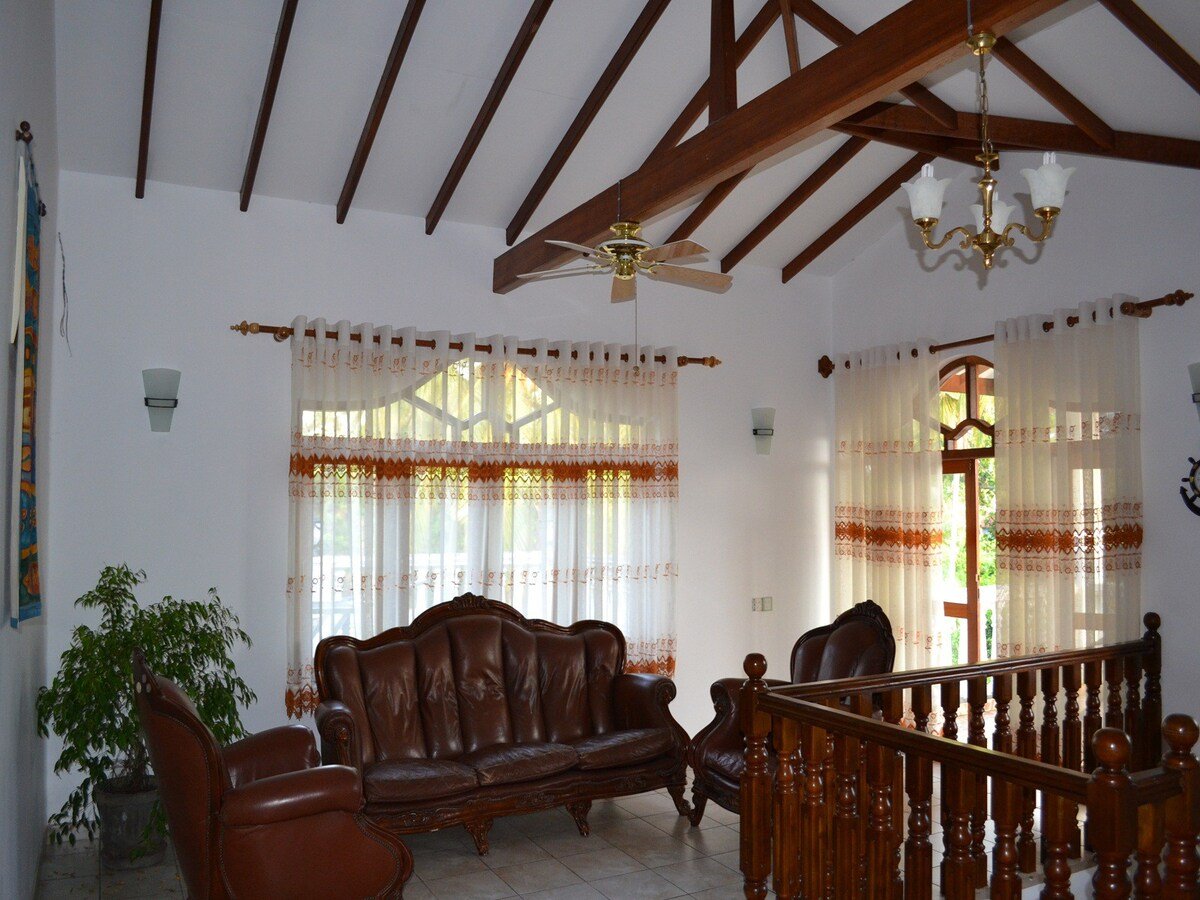 up stair Sitting area
Main Reception
Living Room
Dining
European Style Kitchen
This new Luxury Villa edges the famous Negombo Lagoon. Extremely large with over 5000 sq feet of living space with 150sq feet of summer hut on the water and Private Swimming pool and it is built on half an acre land leading straight to the lagoon. The sea is a hop across from the Villa and the seaside is part of the villa, as The Villa comes with all the creature comforts including its own port with a boat inside the land, bicycle, and BBQ facilities. The villa includes a relaxing and peaceful summer hut that is built on the water in the lagoon!
The Villa is only 20 mins from the airport, 40 mins from Colombo (capital) and 10 mins from the happening Negombo Town packed with bars, cafes, and restaurants. There is plenty to do at the Villa from swimming, fishing, bird watching, and sailing. With a huge garden and an all year around sun, it is the ideal place to relax with the whole family, including grandparents
You will have full access to the Villa and the Private Swimming pool. No other guests will be in the house, it is all for you!
"Great service and place. Pool was very good to cool down during a very hot period. Would definitely recommend this to my friends."
"Worth staying here. Beautiful house with a pool and fabulous host and hostess. 10/10."
"Lovely property and first class hospitality."
"House was amazing. Great pool, very clean and the people who worked at the house and fantastic. Highly recommended!"
"Wonderful hospitality from the in Villa staff, serving excellent food, organizing transport, doing the shopping, and even playing cricket with the kids. Great amenities for a large family gathering, a very memorable stay."
"It was amazing spectacular fantastic and great, we canceled our last day trip to Sigiriya to visit Barbara one more day! The housemate so kind and helpful "
"The house is large and lovely, though not all the air conditioners in the room worked well. The pool is very warm and great for children, and Elizabeth's housekeeper made a lovely dinner for us and arranged transport to the airport. We did not have enough time to really explore the area, so we did not get to the beach, but the lagoon was scenic."
"We had good time with few friends. We met after a long time. The food is delicious and Esha prepared so many food for us without any delay. It is a peaceful place to enjoy with your family and friends."
"Spacious, large place and a bit away from neighbours. Very good, medium size swiming pool."
"Used as a base when we first landed. Close to the airport, we organized a taxi with the host. Lovely welcome from the host. Tuktuk driver on hand to take us shopping for the evening's food. We were cooked a lovely Sri Lankan meal and breakfast the next day. Very clean, would recommend."
"The Villa is absolutely stunning. We won't spend a short time here as our stay in Sri Lanka was coming to an end and we were so glad we picked here. It is very much a family-run villa with incredible views across the lagoon and spacious rooms throughout. The pool was also great as we wanted to relax. Would definitely stay again. Thanks"
"Great venue that needs a good internal overhaul. Housekeeper an outstanding Srilankan curry maker and Tuk-tuk driver very helpful. Don't use Taxis but UBER which is half the price. Negombo and restaurants 6-8km away Pool and gardens well kept. Needs Aircon downstairs. Would have to have had a makeover inside before I would come again."
"It was a Great moment in Barbara Villa with my 4 friends."
"Our second time at Barbara Villa. We liked every aspect of the villa. We recommend the restaurant at jet wing lagoon a few minutes away. We recommend without hesitation."
Check out: 11:00

Self-check-in with building staff

No smoking

Pets are allowed

Don't drink alcohol when you are using the swimming pool
Committed to Airbnb's enhanced cleaning process.

Airbnb's social distancing and other COVID-19-related guidelines apply

Carbon monoxide alarm

Smoke alarm